We believe it is important to go and place our feet on the ground of each country which in turn holds the rotating 6-month presidency of the Council of the EU. In this way, we are able to link in with the local Christians in each nation, learn about their nation and its needs as well as to pray together for those in authority in that nation and in the EU and into current Europe-wide issues.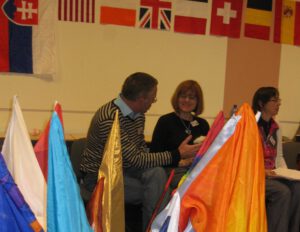 Our meetings are made up of:
Personal sharing time
We catch up with each other's news and learn what is on the hearts of our brothers and sisters so that we can then pray for each other.
Information from the nations
In trios, we learn what is happening in different countries – elections, forthcoming legislation, cultural changes, the state of the church etc.
Addressing Europe-wide issues
We aim to bring up-to-date, accurate information on issues which affect all our countries to a greater or lesser extent and then to pray into those issues. These can include topics such as migration, the terrorist threat, the UK referendum, the eurozone crisis, and family issues.
A time for Israel
We spend some time hearing news about Israel and to bless the Jewish people, recognising that as Christians we are grafted into that root and that our continent has a Judaeo-Christian Heritage.
Learning about our host country
Hearing something of the history and culture of our host country enables us to better pray for the nation, its leaders and the church there. This is a good preparation for what is to follow.
Prayer walks
We spend a day prayer walking around strategic points in the capital city to pray for different aspects of the nation's life, e.g. government, church, education, Jewish history, or problem areas and we like to pray with local intercessors who know their nation better than we do.
Local church meeting
We hold a church meeting in the capital, open to the members of all local churches. By linking with local Christians, we aim to encourage the church in that nation, to share with them some of the issues and topics we have been praying into, to encourage them to pray for their leaders especially during their time of increased EU responsibility, and to give them a blessing from all the nations represented in our European family.