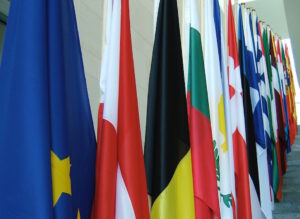 Our purpose is to find the best ways of:
Learning and communicating the needs of Europe at large and the EU and other European institutions
We each have a different national and personal viewpoint of European issues, often shaped by our national culture, media and other sources of information. We aim to share up-to-date, accurate information, to dispel myths, and to discuss differences openly, always endeavouring to hear what God is saying about any particular issue.
Observing trends within the EU and mobilising prayer accordingly
With representatives from across Europe, we try to build a fuller picture of what is happening in Europe than our national media may give us. We also have the opportunity to learn about developments in other parts of Europe which we would not normally hear about. We do this, not only in our plenary sessions but also as we share time together personally. Then we can all go back to our own national prayer networks and mobilise prayer for the continent.
Creating a community of leaders who are sensitive to the Lord and to one another
The first part of our meetings is always dedicated to sharing personal news and praying for each other, in order to better understand and support one another in a spirit of family and maintain good personal relationships so that we can pray more effectively together and for each other.
Building unity across Europe to help accomplish God's purposes for the continent
Despite any differences of culture or viewpoints, we aim to promote unity in the body of Christ in Europe, not shying away from the difficult issues, but providing an environment where any differences can be examined and discussed without letting preconceptions or prejudices get in the way of brotherly fellowship and understanding.
Covering Europe with prayer
As we invite new members to our family of prayer, we aim to have brothers and sisters in all the countries of Europe with whom we can share information and prayer needs so as to cover Europe with well-informed prayer. In conjunction with other European prayer leaders, a new initiative has begun called the 'Canopy of Prayer over Europe' where individuals can sign up to a regular prayer slot, informed by regular updates which communicate the needs of Europe and the EU.