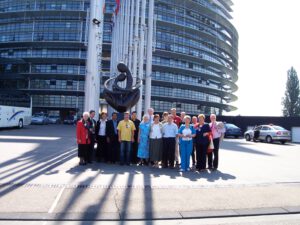 In the past, there have been various prayer conferences and initiatives to bring people together to pray for Europe and each one has made its contribution.
In 2006, a group of prayer leaders met together to explore ways of initiating an ongoing prayer movement made up of people who would commit to meeting together regularly, to get to know each other and each other's country of origin, to pray for each other, to seek the Lord together as Europeans and to pray into those issues which are affecting the nations of Europe.
From that initial meeting has developed the European Union of Prayer, a growing family of national prayer network leaders, prayer house leaders, parliament prayer group leaders, and intercessors for Europe.
Together we have traveled to the capital city of each country which in turn held the rotating 6-month presidency of the Council of the EU, which means that we have met twice a year. We do not, however, limit membership to those who come from EU member states, and our long-term aim is to have representation from every nation in the continent of Europe.
Over the years we have grown into a real family, getting to know and love one another and develop a better understanding of each others' national culture and views, but our aim when we meet is to come together first and foremost as citizens of the Kingdom of God, to worship and pray together and to seek God's wisdom as we face many difficult issues and challenges in our continent.